This morning I woke up and on a whim decided to join
The Nester
in the "31 days" series. This is an idea that has been rolling around in my head for over a year now. I think the thought of blogging for 31 straight days about the same topic kinda scared me. So I pulled out a piece of paper and numbered it from 1-31. That was a looong blank list, but then I started jotting down ideas and doodling quilting ideas and I ended up with more than 31 ideas/topics (some of which could be explored further.) I'm thinking that Sundays will more than likely feature a picture of a quilt for inspiration. All the other days will feature instruction and design ideas.
My hope during this 31 day series is to empower you to finish your own quilt tops. If "free motion" quilting scares you, then it's time to become friends with your walking foot. I want to show you that you can make beautiful quilting designs without having to send your quilt out to be long-arm machine quilted. Yes! I (a machine quilter) am encouraging you to do your own quilting!!! I'll still be here if you want me to quilt for ya though. Feel free to grab a button and post it on your blog. Don't forget to post your pictures on the
Petit Design Co. Flickr
group too.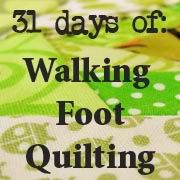 A little disclaimer: All of the designs featured in the 31 days post were thought up by me on one afternoon. I sat down with a pen and paper and drew out over 40 designs. As is often the case in quilting, the odds are that someone else has also had the same idea, but arrived at it or done differently. After I write the weekly posts, I sit down and search Flickr, Pinterest, and Google to see if i can find any quilts using similar designs/concepts that I have shared. The quilts I find are featured on the Sunday Inspiration posts and link back to their original source. I did not browse the internet and steal designs/ideas from others to pass off as my own.
~ Norma
Day 1:
The Walking Foot
Day 2:
DIY Quilt Guide for Walking Foot
Day 3:
Basting a Quilt
Day 4:
The Humble Line
Day 5:
Starting, Stopping, and Rounding Corners
Day 6:
Grids
Day 7:
Sunday Inspiration
Day 8:
Circles
Day 9:
Waves
Day 10:
Continuous Curve
Day 11:
Curved Crosshatch
Day 12:
Orange Peel or Pumpkin Seed
Day 13:
Water
Day 14:
Sunday Inspiration
Day 15:
Broken Glass
Day 16:
Zig Zag
Day 17:
Argyle
Day 18:
Argyle: Mix It Up
Day 19:
Double Argyle
Day 20:
Stairs
Day 21:
Sunday Inspiration
Day 22:
Topography
Day 23:
Ribbons
Day 24:
Giant Clamshell
Day 25:
Geometric Meander
Day 26:
Quilted Fabric
Day 27:
Borders
Day 28: Sunday Inspiration
Day 29:
Quilt as You Go
Day 30:
Binding: part 1
Day 31:
Binding: part 2
Bonus Days:
Back of Binding